Submitted by DataRecoveryGroup on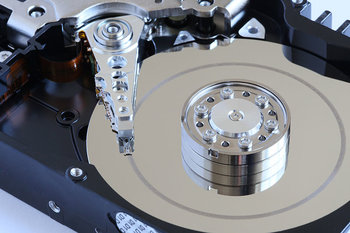 Hard drives might be the most important part of your computer. They are where all of your valuable documents, pictures, music files, videos are stored on your computer. That's why when you hear strange clicking noises coming from your hard drive, you should be concerned about all of that valuable information. It's been called the click of death which is You may have heard it as the click of death. Whatever it is, it doesn't really sound right, and you'll likely find that the hard drive isn't working. Understanding what's happening in your hard drive can help you identify what the problem with your hard drive is, and what you should and should not do to make your hard drive functioning again, or at least recover the valuable data from it.
Why Does a Hard Drive Click?
To understand why a hard drive makes a clicking noise, you have to understand a disk read/write head. The read/write head hovers over a hard drive's platters, and quickly scans across a platter either adding data to the platter or reading from it. In the event that damage is done to the platters, such as a head crash (the read/write head comes into contact with the platters, damaging them), the read/write head is unable to perform its tasks. This causes it to move back to its original position and try to locate the right position on the platters again – all in a very fast process.  Occasionally, the read/write head will reach the end of the platter and hit a stop, resulting in the audible click sound that we recognize.
What Shouldn't You Do?
While a non-functioning and clicking hard drive is annoying, the first thing that you should do is to make sure that you don't do anything that might make data recovery impossible, even for a professional. There are a few things that you shouldn't do on your own, and you should leave up to a data recovery professional. There are also a few things that no one should ever do while attempting to recover data from a hard drive.
On Your Own
Replacing the Control Boards
Many people with clicking hard drives think that switching out the control board might help their hard drive start working again. As the theory goes, if something short circuited in the control board of the hard drive, replacing the control board of the hard drive will do the trick and the owners hard drive will start working again. Many control boards for hard drives look identical from one another, but in fact do not function well with one another. That can lead to the data requiring a much more expensive procedure in order to become recoverable, or to not be recoverable at all. Additionally, the control board is likely not the source of the problem, and it's not something that a data recovery professional would switch out often.
Taking the Cover Off
Under no circumstances should you take the cover off of your hard drive. Data recovery professionals will occasionally do this, but it is an expensive procedure and requires the specialists to operate in a class 100 cleanroom. If you take the cover off in an unfiltered air environment, you contaminate the hard drive and make data recovery more difficult or impossible for professionals. Additionally, unscrewing and re-screwing the screws of the hard drive misaligns the hard drive, and leaves it not functional. Only a trained data recovery professional with the proper screwdriver can make sure the screws are set to the proper torque in order for the hard drive to work again.
Install Software
There are plenty of data recovery software plans that can assist with recovering data from a hard drive. Unfortunately simply running them on your hard drive can alter the data and make it far more difficult to recover. Many software programs are simply not compatible with certain hard drives, and if you're not sure what you're doing, you can end up losing all of the data on your hard drive forever.
We've covered a few data recovery methods that don't work, but we'll go over a few of them again to reinforce the fact that you shouldn't try these at home.
Never Ever
Freezing It
Hard drives are meant to operate under normal livable conditions, and inside of a freezer is not one of them. It can short out the electrical components of a hard drive, or lead to rotational scoring. Both of those make data recovery more unlikely and more expensive for you once you realize that freezing your hard drive did no good.
Bashing It
It should go without saying, but you should never apply physical force to a hard drive – no matter how angry you are at it. If you think the hard drive is clicking because you dropped it or the hard drive went through some sort of shock, doing it again won't ever have any benefit.
Moving It While It's Running
You can move a hard drive from one location to another, but only if the hard drive is not running! Hard drives are already sensitive to shocks and movements, and are super sensitive while the hard drive is running. If you need to reposition the hard drive, be sure that the hard drive is powered off, and take extreme care while moving it.
So… What Can I Do?
Now that we've told you all the things that you shouldn't do with your clicking hard drive, we'll tell you what you can do to ensure that you get your data back in the most cost effective way possible. Power it off! Unfortunately, once a hard drive starts clicking, there is some sort of mechanical issue with the hard drive, and it has to be taken to a data recovery professional. The longer you leave the drive running, the more likely damage will be done to the hard drive's platters, making data recovery more difficult. You can also contact us and we can help you solve your problem. Describe the issue that you have, and one of our knowledgeable customer service representatives will get back to you within a business day.
Related Articles: